Who Gets To Speak / Who Gets Heard
Women, Youth, International Assemblies & multilateral fora.
Measuring gaps in representation, participation and influence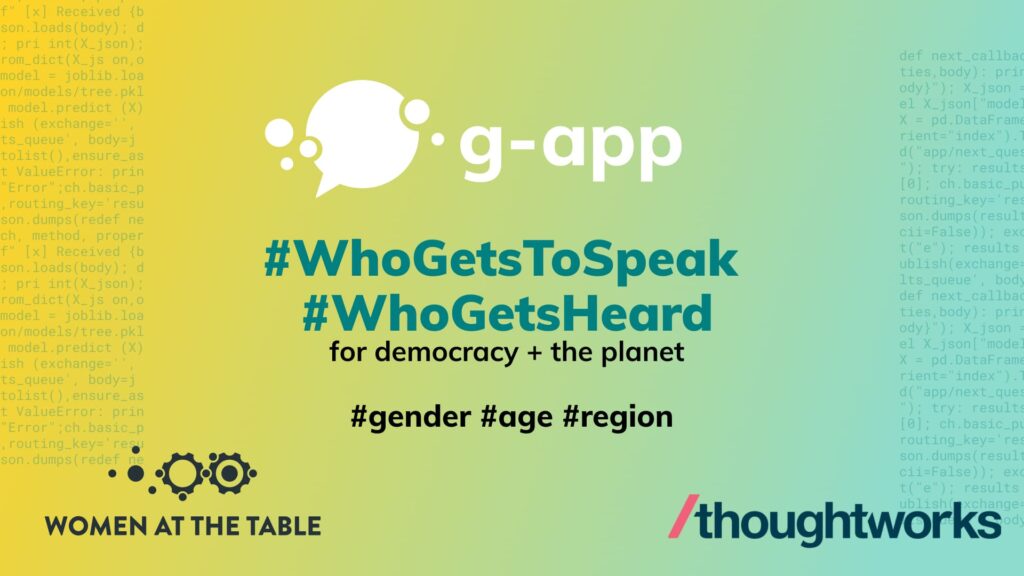 Who gets to speak on behalf of a changing world in crisis? Who gets heard? The g-app Project is designed to measure the active participation of women and youth in international conferences and capture in which fora, the proportion of time, the topics, the capacity and delegated authority women and youth speak in the conference chamber in order to provide concrete metrics to evaluate representation, participation and influence and highlight these figures to catalyze the outcome of more women and youth in leading positions correspondent to their proportion in the population.
International organizations provide the space and infrastructure for deciding the direction of the international community. Ensuring that a plurality of voices are heard is key for these decisions to have legitimacy. But how is this plurality measured? Do we understand the duration of time or the subjects on which women speak in international fora? Do we understand in which capacity women and youth speak: as decision makers, as experts, or experientially? It is not sufficient for women and youth merely to be present, or even to speak in the conference chamber, they must also have influence in outcomes.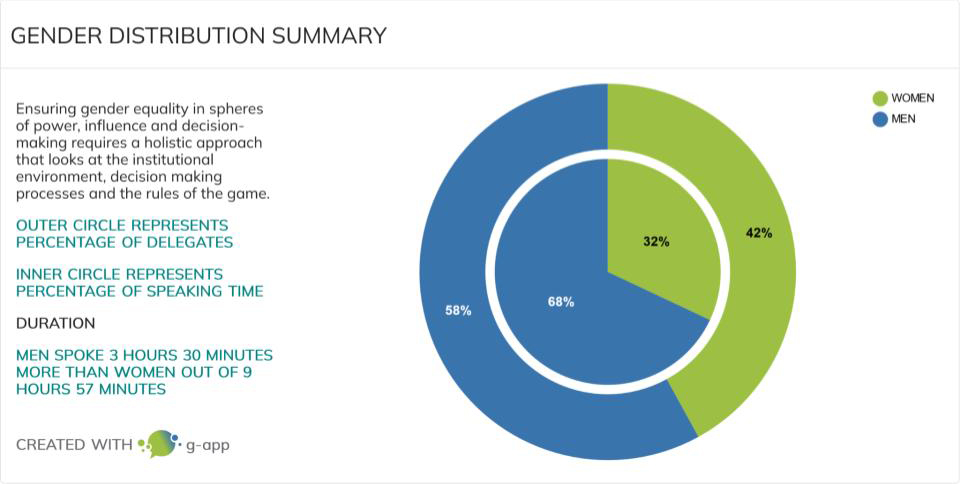 Our ignorance of quantitative answers to these questions is not due to lack of information. All major international meetings are recorded in some form or other, but the sheer volume of recordings and the lack of automated ways of processing the information have been a barrier to answering these basic questions of representation and accountability in the international system. This is particularly relevant at a time when multilateralism (and even democracy) must reassert its legitimacy.
Who Gets To Speak, Who Gets Heard on behalf of a changing world in crisis ?
We believe this project will contribute to our understanding and achievement of SDG 5 whose indicator 5.5 seeks to 'Ensure women's full and effective participation and equal opportunities for leadership at all levels of decision making in political, economic and public life'.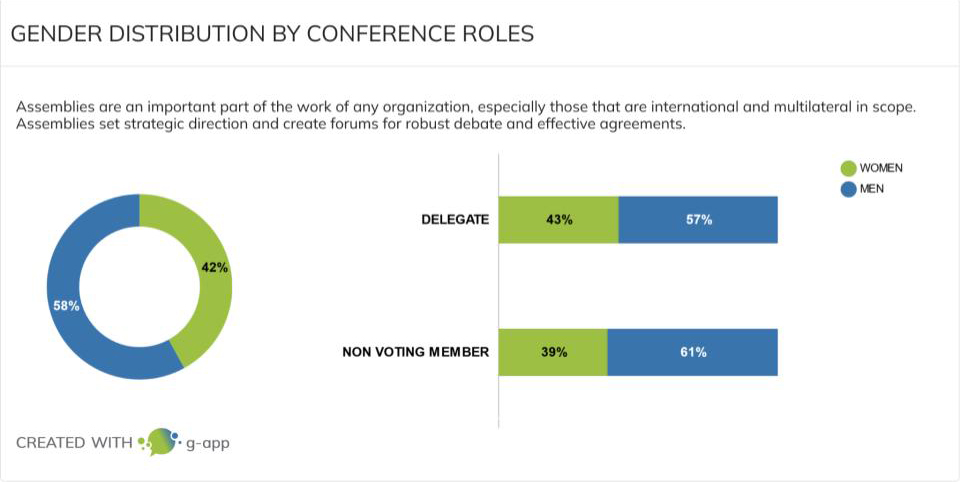 Lightning Talk MozFest 2022
How it works
CREATE CONFERENCE
UPLOAD REGISTRANTS
CREATE SESSION
UPLOAD SESSION VIDEO
UPLOAD SPEAKER ORDER
TOPIC MODELING with Explainable Algorithm
CONFERENCE OVERVIEW REPORT
EXPORT REPORTS
What is needed
DEMOGRAPHICS EXCEL WITH CONFERENCE REGISTRANTS
VIDEO RECORDED FILES PER PANEL
SPEAKER ORDER PER PANEL
Demographics Excel
REGISTRANT ID – Each Registrant ID must be unique
GENDER – Accepts M/F/X
ORGANIZATION TYPE – No Constraints.
Currently using Government (Govt), Civil Society Organization (CSO), International Organization (IO), Private Sector, Academia
COUNTRY – Must match with UN Regional Groupings
Software assigns Africa, Asia/Pacific (AP), Eastern European (EEG), Latin America Caribbean(LAC), Western European & other (WEOG)
CONFERENCE ROLE – Accepts Delegate, Head of Delegation, Non-Voting Member
Optional – Any other demographic elements, p.ex Youth/ Age can be added
Video Requirements
ENGLISH CHANNEL VIDEO IN SUPPORTED FORMATS
FLAC, MP3, MP4, Ogg, WebM, AMR, or WAV file format.
Maximum supported file size 2GB
NEEDED FOR EACH VIDEO
Registrant ID: of each speaker as defined in Registrant file
Session Role: Chair/Vice Chair, Moderator, Panelist/Presenter, Participant
Speaker Order